The John Lennon Educational Tour Bus Irish Tour 2015: Reveal Day Premieré!
23 Nov 2015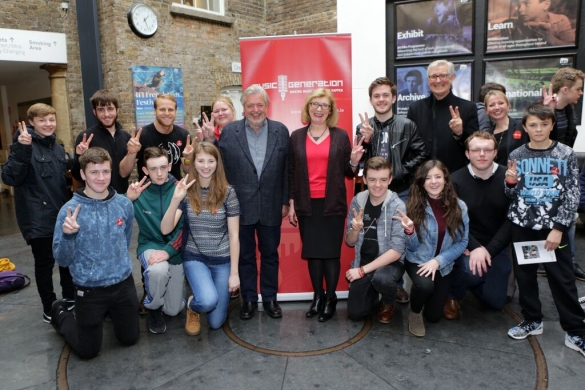 On Wednesday 11 November 2015, young musicians from Music Generation South Dublin were joined by Guest of Honour, Minister for Education and Skills, Jan O'Sullivan T.D. and renowned composer, producer and Irish music icon Bill Whelan for the premiere screening of their very own, original music videos, which were produced as part of a 12-county tour of The John Lennon Educational Tour Bus during the summer of 2015.
The Reveal Day premiere, presented by Music Generation in partnership with The John Lennon Educational Tour Bus, was an occasion to acknowledge and celebrate the artistry, talent and hard work of these young people who wrote and recorded original songs and developed and filmed broadcast-quality music videos together with the help of three engineers, on-board The John Lennon Bus. Taking place at Ireland's national cultural institution for film, the Irish Film Institute, Reveal Day also marked a coming together of project participants and music-makers from across the country as they had a chance to view their work on the big screen for the first time.
Among those joining the celebration were Hans Tanner – The John Lennon Educational Tour Bus on-board engineer, who worked alongside the musicians to record their songs and videos – and renowned musician, producer and composer Bill Whelan, who spoke to the group about his own experiences, influences and inspirations as a young musician, and whose philanthropic support made the tour possible. Minister Jan O'Sullivan commenced proceedings by congratulating the group on their achievement and by commending their passion and creativity.
The John Lennon Educational Tour Bus is a non-profit, state-of-the-art mobile audio, HD video recording and production facility and educational resource. During its second tour of Ireland, in July and August 2015, the Bus travelled to the north, south, east and west of Ireland, visiting 12 different areas of the country: South Dublin, Wicklow, Louth, Laois, Limerick City, Carlow, Cork City, Clare, Westmeath, Mayo, Sligo and Donegal.
Made possible by Yoko Ono Lennon, The John Lennon Educational Tour Bus is dedicated to providing young people with tours of the studios and participation in free song-writing and multimedia production workshops. With the assistance of on-board engineers, young musicians have the opportunity to learn hands-on how to write, perform, record, and produce original songs, and how to produce and shoot music videos.
Reflecting on the success of the tour, presented in partnership with Music Generation and Local Music Education Partnerships, Rosaleen Molloy, National Director of Music Generation said "We were delighted to have had this fantastic opportunity to work with the John Lennon Bus team and bring a real sense of excitement to music education across Ireland during the summer. It was wonderful to see the young people having the opportunity to put their musical skills into practice on the John Lennon Bus. I would like to take this opportunity to thank Bill Whelan for his philanthropic support in making this exciting project possible and in creating access to music education experiences for children and young people – a vision that is shared by Music Generation's donors U2 and The Ireland Funds, the Department of Education and Skills and Local Music Education Partnerships. Music Generation is continuously looking at new and exciting ways to encourage young people into music education and The John Lennon Educational Tour Bus certainly captured their imagination."
Avril Crotty, Music Development Manager of Music Generation South Dublin said "We are delighted to be joined again by the fantastic John Lennon Bus team and getting the chance to relive those wonderful days the bus spent in South Dublin. There is such an infectious buzz at the IFI and it is great for all the participants across the country to come together. Those videos were made for the big screen and I hope it has reaffirmed for them all exactly what they are capable of achieving in such a short space of time."

Brian Rothschild, Executive Director of The John Lennon Educational Tour Bus stated "It was fantastic for us to have had the opportunity to tour Ireland and meet so many talented and vibrant young people along the way. There is such a terrific energy and national momentum for music education here and it was wonderful to work with Music Generation and the local Music Education Partnerships who, like the Lennon Bus, are empowered to opening up access to music for the new generation. Our aim is to build on this great sense of enthusiasm, and inspire musicians of the future through our mission and the wonderful, state-of-the-art production facilities on board the bus."