Ruaille Buaille Lucan Children's Music Festival '17
10 Aug 2017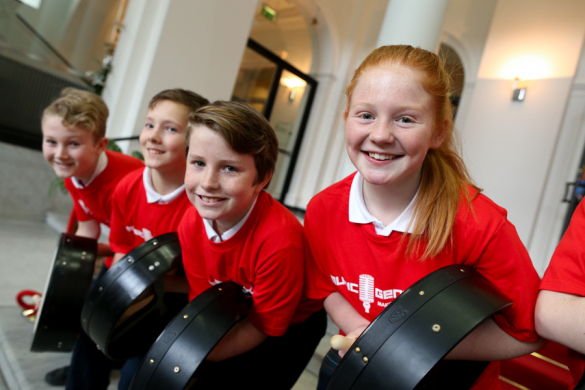 30 young musicians from Lucan, Brittas, and Rathcoole came together in June to perform for audiences at the annual Ruaille Buaille Lucan Children's Music Festival.

The ensemble was formed just a month prior to the festival through an open call for intermediate to advanced musicians, and the group were very busy practicing in preparation for their big performance!

This year's Ruaille Buaille programme at Griffeen Park featured an inspiring line-up of more than 40 creative music workshops, performances and outdoor events, suitable for families and children of all ages. Other festival highlights included concerts by Lisa Lambe, The Henry Girls, Nico Brown and his Instant Orchestra, Lucan Gospel Choir and the Mobile Music Machine. There was also be a mini music marquee with a programme for early years, as well as circus performances, pop-up shows, food-stalls and more.

The new Music Generation South Dublin Traditional Ensemble, which was officially launched at the Festival will continue to meet for rehearsals throughout the 2017/2018 academic year, with opportunities expected to be available for both junior and senior musicians from September. The goal for the ensemble is to provide an extended learning and performance experience for children and young people in South Dublin, building on their weekly traditional instrumental tuition and Grupa Cheoil participation in schools, hubs and educational centres.

Members of the group, currently ranging in age from 10 to 17 years, explore various styles and genres of music within a traditional framework, under the direction of musicians James Mahon and the Music Generation South Dublin Trad Team: Robbie Walsh, Mary Ryan, Aoife Desmond and Anna Mary Donaghy.

Enquiries are welcome from young musicians who have been playing their traditional instrument for a minimum of one year.
Ruaille Buaille Lucan Children's Music Festival is produced by South Dublin County Council Arts and Library Services. The festival programme is curated and managed by Artscope and will take place in Lucan Library, local primary schools and in Griffeen Park.
The following video was recorded live through Facebook from the event: