NOISE Music: Live at North Clondalkin Library
11 Jul 2022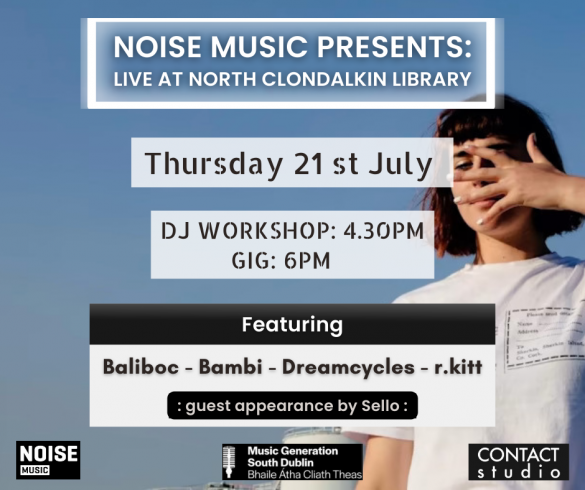 NOISE Music is launching its music programme in North Clondalkin Library on Thursday 21 st July with
a stellar line-up of musicians including Clondalkin's own Hip Hop / Gaelic Drill innovator Sello.
NOISE Music has built a collective of some of the most innovative and exciting musicians & DJs
working in Irish music today, including the artists performing at this event. They deliver workshops
and performances throughout South Dublin County, working with young people aged 14 to 18 to
develop their creativity, make music, and perform.

This event in North Clondalkin Library is an opportunity for young people in the area to meet the
musicians working on the programme & see them perform live. There will be a walk-in DJ workshop
from 5pm, with the gig starting at 6pm. It's also an opportunity for anyone interested to sign up for
free workshops in DJing, beat-making, songwriting and more. Workshops will take place in North
Clondalkin later this year.

NOISE Music is part of NOISE Dublin, the youth arts programme of South Dublin County's Arts Office.
It is run by a partnership between Music Generation South Dublin and CONTACT Studio. It is funded
by Music Generation, the Dept of Education and the Arts Council through the Creativity and
Collaboration Fund.

South Dublin Libraries are partnering with NOISE Music to deliver the DJ Programme in Tallaght and
North Clondalkin Libraries. NOISE Music Presents: Live in North Clondalkin Library is funded by NOISE
Music and North Clondalkin Library.