Music Generation South Dublin Programmes Return
10 Nov 2020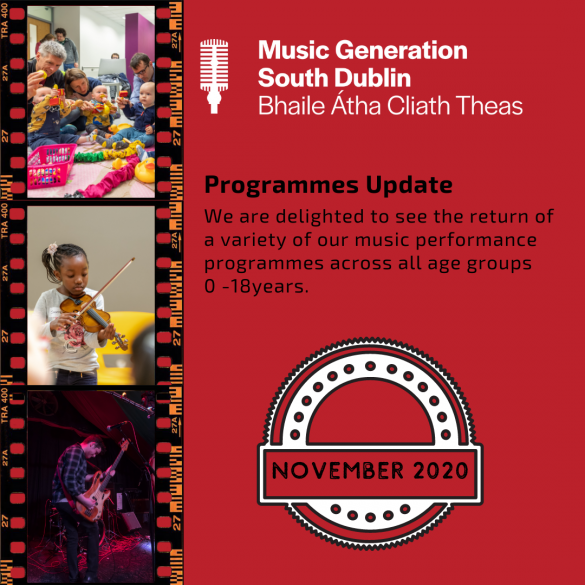 EARLY YEARS
Thursday 4th November saw the start to MGSD Early Years programme in partnership with South Dublin Libraries. This programme is being delivered over Zoom for 6 weeks for parent and babies in Clondalkin and Lucan. Our Early Years Musicians will deliver a fun filled song, movement and percussive musical experience through play to the 0 - 18 months and 18 months - 4 years age groups.
Follow South Dublin Libraries and your local library on Facebook for updates on future EY programmes: Clondalkin Library Lucan Library Ballyroan Library Tallaght Library
PRIMARY SCHOOL
5 primary school programmes have resumed music activities since finishing up Mid-March 2020 due to school closures nationwide. MGSD musicians are delivering Early Years Primary, Special Needs and Percussion programmes via live video link and/or in person. MGSD musician, Laura Walsh, is a music therapist and community musician and has beeing working in Cheeverstown School since 2019. We are delighted to see this programme return to Cheeverstown in October 2020, along with St Mary's JNS Rowlagh and St Thomas' Jobstown.
Cheeverstown Christmas Concert 2019 pictured below.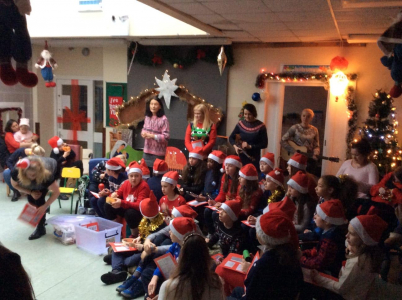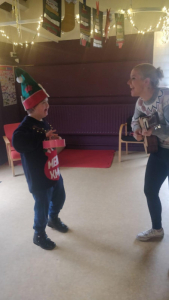 POST PRIMARY
25 students from Kingswood Community College attend a 'virtual hub' during the week and take ukulele, guitar, keyboard and vocal classes. With strong support from the Kingswood CC music co-ordinator in partnership with MGSD we have been able to see activity return since October 2020.
COMMUNITY HUBS
109 children and young people (aged 7 - 17years) are attending virtual classes every Wednesday and Thursday from the Rathcoole and Clondalkin hubs. Classes are accessed through a programme called My Music Staff. Parents and Students can see their future classes on their personalised calendar, access online resources uploaded by their Hub musician and access their zoom links via the calendar. In June 2020 our hubs came together virtually to create a music performance video for Cruinniú na nÓg 2020. Check it out here:
SUBSOUNDS INTRO & SUBSOUNDS TALLAGHT
SubSounds is a youth music collective that is managed and delivered by a partnership between Alternative Entertainments and CONTACT Studio. It is funded by Music Generation South Dublin. CONTACT Studio is a South Dublin County Arts Office initiative. SubSounds aims to empower young people to develop their creativity, musicianship and composition skills through mentorship and collaboration. This year the programme has expanded to allow for increased demand.
SubSounds Intro (13-15years) and SubSounds Tallaght (15 - 17 years) have started an intensive 24 week programme virtually with 50 young people between the two programmes (20, 30 respectively).
SubSounds 2019 Grand Social End of Programme Gig: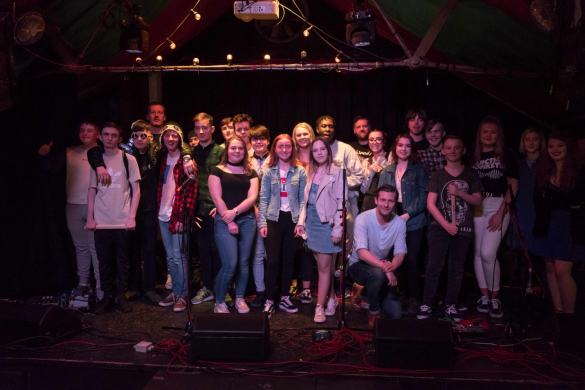 MGSD WORK IN PROGRESS! STAY TUNED!
NOISE Music - Partnership between MGSD & CONTACT Studio to develop a new rap, DJ and beats programme for vulnerable and hard-to-reach young people.
Foroige Big Picture - Live performance opportunities in a café setting for 12-17 year olds.
Emergence - MGSD will commission 3 young composers to write music for dance artists involved in Emergence Young Choreographers programme which is part of the NOISE Moves Youth Dance Festival 2021.
Stay tuned for further updates about these programmes as we get them up and running from December 2020
Follow us on Social Media @MusicGenSD (Facebook, Instagram & Twitter) for programme updates, videos and lots more.
E: info@musicgenerationsouthdublin.ie for queries