MGSD Hubs Concerts June 2018
15 Jun 2018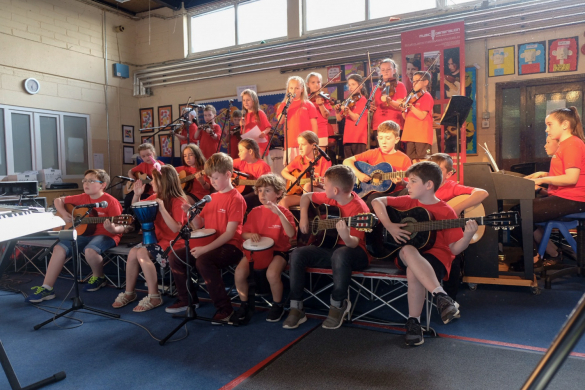 Rathcoole Hub Performance
The Rathcoole Hub takes place every Wednesday in Rathcoole Community Centre. We offer a range of instruments including fiddle, concertina, keyboard, guitar, vocal and drumming classes. In preparation for our concerts the class timetables were rearranged to facilitate Ensemble Sessions. This gave the children a chance to play the songs they had been working on in their class with a range of other instruments and children.
Áras Chrónáin is an Irish Cultural Centre in Clondalkin. The Áras has been wonderful assistance to Music Generation South Dublin hosting our County Trad Ensemble every Sunday and for this final performance for all our hub students.
The children arrived from 4pm, signed in, collected their tshirt and went for sound checks on stage. By 5:30pm the hall was full and the concert was opened by MGSD Development Officer, Aideen McLaughlin, with a welcome message for our audience of friends and family. The first ensemble on stage was made up of keyboards, guitars and drums performing, a Queen classic, We Will Rock You. We heard You are my Sunshine, a selection of traditional irish tunes, Yellow by Coldplay and the concert finished with Bob Marley's Three Little Birds which had the whole audience joining in.
Well done to all the children who took part. Photos of the event are in our Gallery page of our website and also on our Facebook.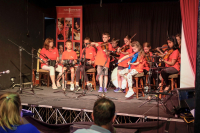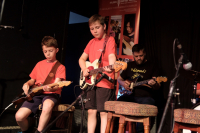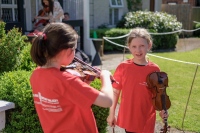 Collinstown Hub Performance
The Collinstown Hub performance took place in St Peter Apostles Junior National School which is just a few metres down the road from Collinstown Park Community College where the hub was situated this year. From September 2018 we are delighted to announce the hub will be moving to St Peter Apostles JNS and we open at the earlier time of 2:40pm. This decision was made by the Development Officer, Aideen McLaughlin, after assessing the age demographic of our students and which schools they are coming to the hub from. A large number of our hubs students are attending St Peter Apostles and the school has been working hard developing their violin programme which MGSD hopes to work alongside during the next year also.
Similar to Rathcoole, a number of weeks before the concert, classes were rearranged to faciliate Ensemble Sessions. We saw violins joining the keyboard and vocal group while guitars jammed with the drums in preparation for the end of term performance. The opening performance was by the youngest group of musicians singing with actions and movement infront of an audience of family and friends. We heard a Beethoven gem, Ode to Joy from Matt Rafters string ensemble, Fur Elise by Elisha on solo piano and and an energetic performance of Bruno Mars' Count On Me from Josh Murtagh's vocal group to name a few of the songs performed. The concert closed with Bob Marleys Three Little Birds which got a great reaction from the audience.
Well done to all the children who took part. Photos of the performance are in our Gallery and also on Facebook.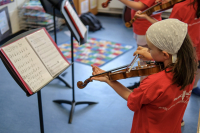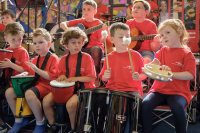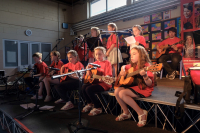 New Instrument Options for 2018/2019
We will be offering a range of new instruments in our Hubs.
Ukulele
Musical Theatre (Vocal with elements of Drama)
VIVO Music (7-8yrs, general music class before deciding on one instrument to learn.)
Tin Whistle (Rathcoole Only)
Check out the Applications page of our website for an expression of interest form if you would like to register a child aged 7+ for instrumental classes.