MGSD Hubs Songwriting/Composing Competition Winners 2021
3 Jun 2021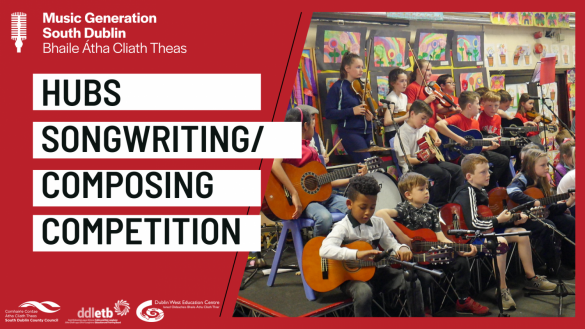 Let's Meet the Winners!
Laura Cummins
Winner of the 7-11yrs Age Category
MGSD Rathcoole Hub
Age: 11
Song Title: Went for a Walk
Tell us about your school and class?
My school is Scoil Chronain Rathcoole. I am in fifth class.

Have you composed other songs?
I like to write other songs. I have written Birthday songs for my family and friends. I have been writing more during the pandemic because I had more time.

How long were you working on Went for a Walk?
The song took two weeks to write.
What type of music do you like to listen to?
I like listening to ACDC, Led Zeplin, Olivia Rodrigo and Billie Eilish.
James Bennetti
Winner of the 12-17yrs Age Category
MGSD Clondalkin Hub
School: Griffeen Community College
Year: 2nd
Age: 14 years
Instruments: Keyboard, Drums, Voice, Garageband
Song Title: Rainy Day
James on Composing: "I composed 'Rainy Day' over the course of 2 weeks. I am in the process of composing some other songs. I have lots of lyrics written but no complete songs as yet."

Commenting about the Competition James said:
"I really enjoyed the challenge of composing a song as part of the MGSD Song Writing Competition. This opportunity gave me a focus for a period of lockdown.
I have played around with Garageband for a couple of years but never used it to complement my own piano playing or lyrics. It was exciting to bring all of these elements together in the form of my song 'Rainy Day'. I will use Garageband in my future music and I will continue to play piano under the guidance of Josh - my piano teacher."
The Official Announcement on YouTube
Watch highlights of all the entries and winner announcements here:
​
Dublin South FM
- Featuring Hubs Students & Competition Winners

You can listen back to Radio Interviews with both winners here. The show was aired on 30th May 2021 and features a variety of Hub students and performances.
Follow us on Facebook, Instagram, Twitter, TikTok and YouTube for updates and new music opportunities for children & young people in South Dublin County
Music Generation South Dublin is a music education service for children and young people that provides a range of opportunities throughout the county for 0 - 18 year olds to learn music.
It is part of Music Generation – Ireland's National Music Education Programme, initiated by Music Network, co-funded by U2, The Ireland Funds, the Department of Education and Skills and Local Music Education Partnerships.
MGSD is supported and funded at a local level by South Dublin County Council and Dublin/Dun Laoghaire ETB.