Mayor of South Dublin County Council Cllr. Sarah Holland congratulates Arts Bursary Award Winners
21 Jun 2016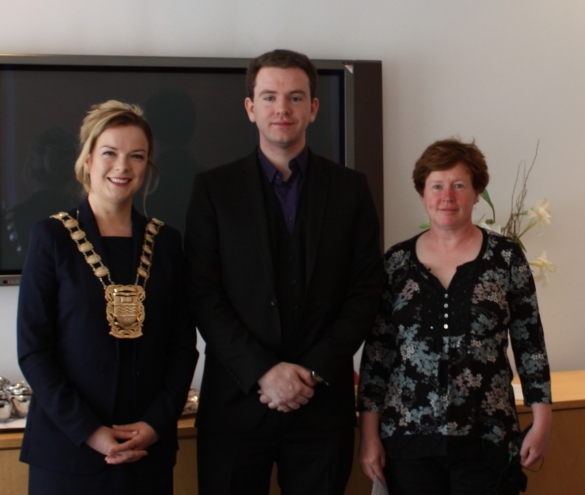 Mayor Sarah Holland met with the award winners in County Hall to congratulate them on their achievements and their contribution to the artistic development of the County. Orla Scannell, Arts Officer, spoke about the history of the bursary awards which were established in 2000 and the significant impact of the awards for artists. The meeting provided a wonderful opportunity for the artists to meet each other and exchange information about their practice.
The winners of the The Annette Halpin Memorial Award for Young Musicians 2016 are: Garry O'Nuaillean, to complete an EP and tour; Killian Farrell, to train as a Repetitor; Luke Kehoe Roche, to attend masterclasses in violin and Killian White, to attend masterclasses in cello.
The Annette Halpin Memorial Award for Young Musicians is made possible by the generosity of the Halpin Family working together with South Dublin County Council and Music Generation South Dublin.
The Young Artists Development Award 2016 has been awarded to Eoin McAuley to publish graphic art novel.
The individual Artist Bursary Awards 2016 have been awarded to: Writer Eileen Casey, to complete a new publication; Music Composer Robert Coleman, to create a new multidisciplinary work; Musician Jane Hackett to complete a Masters Degree in classical strings performance; Musician Emma Kenrick, to attend the Guild Hall Music Therapy programme; Singer Gemma Ni Bhriain, to attend the International Opera Studio in Zurich; Visual Artist Jane Fogarty, to create new works in resin and Curator Jennie Guy, to develop her curatorial practice.

For further information contact: Orla Scannell, Arts Officer, South Dublin County Council. Tel: 01-4597834