Music Gen SD December 2020 Activity
7 Jan 2021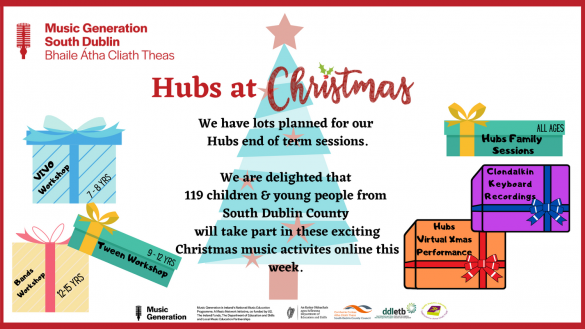 Hubs Virtual Performance of 'Rocking Around the Christmas Tree':
Keyboard Students from Kingswood Community College and the Clondalkin Hub 'Amazing Grace' Virtual Performance:
Glenasmole NS - Christmas Performances 2020:
One of our few programmes which has returned to physical sessions have recorded their individual class performances to share with their families and friends. Here is a summary of the class performances led by MGSD Musician Educator Nicola White.
119 of our our Hubs students also took part in a variety of workshops including:
Recording/Bands Workshop (1 hour) -guitar, ukulele and drums students age 13 -16 yrs took part in a workshop teaching them how to use a recording workshop called Soundtrap. The workshpo was delivered by Karl McCrone, Stephen Fagan and Phil MacMullan who collaborated on this workshop. We look forward to further developing this recording strand in our Community Music Hubs.
Tween Workshop (1 hour) This workshop took place with Rathcoole & Clondalkin Hub students and was faciliated by Maeve O'Hara, Kellie O'Neill, Callum Jeckle & Rachel Rose Murphy (Keys & Percussion, Violin, Concertina). The Workshop incorporating body percussion, rhythm games and solo performances and was aimed at students 9 - 12 years of age.
Family Sessions (multiple 30min sessions) Both Hubs: Rathcoole & Clondalkin - Guitar Drums Violin & Keyboard. Parents/Guardians/Siblings are invited to join the students online lesson. This is a chance for the student to perform for an audience and for other families. Some musicians have assigned a small part for the student to teach their family before the session so the whole family can perform together.