Culture Night - Friday 22nd September 2017, 5pm – 9pm
31 Aug 2017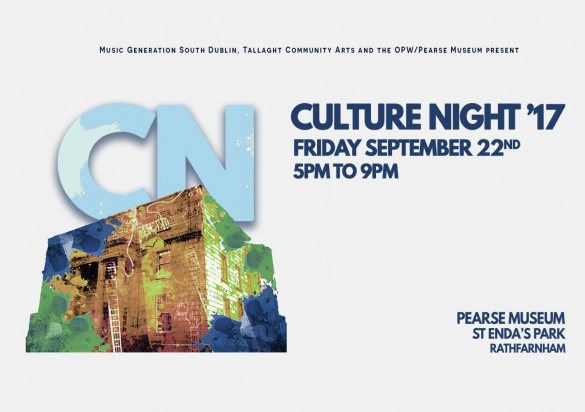 On Friday 22nd September, venues across Ireland will come alive with the sights and sounds of music, art and culture for Culture Night 2017.
Music Generation South Dublin is delighted to be joining Tallaght Community Arts and the OPW/Pearse Museum in presenting a night celebrating music and spoken word at the Pearse Museum, St Enda's Park Rathfarnham.
This free event will include:
Ukulele Workshop led by Bryan Fleming
Hip Hop Workshop and Performance by Street Arts Academy
Outdoor traditional performance Music Generation South Dublin
Indoor traditional music by Club Cheoil na Lochanna Blessington
Rehearsed reading by performers from Tallaght Community Arts Performance Ensemble and Freshly Ground Theatre.
Find the event on Facebook: https://goo.gl/86eVRi
Culture Night at the Pearse Museum aims to reflect the spirit of Patrick Pearse's school which was progressive in it's inclusion of performance, music and spoken word as part of a bilingual curriculum of Irish and English.
Visitors on the night will be able to discover their mojo in a 60 minute hip hop workshop followed by a performance.
Explore your hidden talent with a 45 minute ukulele workshop to be followed by a public concert where workshop participants will have the chance to play alongside the young traditional musicians
Then later treat yourself to an outdoor traditional music concert in the Courtyard by members of Music Generation South Dublin's Trad Group with a cup of coffee and a treat.
To end the night, Tallaght Community Arts Performance Ensemble,Freshly Ground Theatre and Club Cheoil na Lochanna will perform a rehearsed reading of the Gaza Monologues in the historic rooms of the house.

All activities in this setting unique to South Dublin County are family-friendly and completely free.

Please note numbers are limited for workshops and will be issued on a first come, first served basis.
BOOKING ESSENTIAL FOR UKULELE WORKSHOP: info@musicgenerationsouthdublin.ie

Culture Night is brought to you by the Department of Arts, Heritage, Regional, Rural and Gaeltacht Affairs, in collaboration with South Dublin County Council, Music Generation South Dublin,Tallaght Community Arts and OPW/Pearse Museum
Culture Night Facebook Event Page at Pearse Museum: https://goo.gl/86eVRi
Tallaght Community Arts Facebook Page