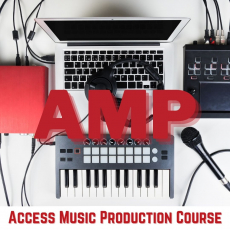 - Home Music Production
- Introduction to Recording with Accessible Software
- An Online Course Delivered by Industry Professionals

ACCESS MUSIC PRODUCTION PROGRAMME

Music Generation South Dublin presents a new and unique programme where participants learn interactively with industry professionals who demystify the world of audio technology using software that's available to anyone.
Presented over 6 weeks, the programme will cover the fundamentals of audio engineering which are demonstrated through the professional Digital Audio Workstation REAPER. The
course is accessible to anyone who has a computer.
In each class, participants will receive interactive presentations and demonstrations, as well as hands-on practical exercises. Beginning with fundamentals such as using an audio interface, recording, editing, mixing, microphone techniques, MIDI and much more. Designed by musicians for music educators, the course caters for participants of all levels and specifically those with no experience.

Participants will make their own recordings, edits and mixes and will receive one-to-one tuition and feedback. A new topic is introduced in every 90-minute session which will feature both theoretical and practical elements.

To participate in the AMP course all you need are the following:

(If necessary please contact your Music Generation Development Officer to procure these items)
Basic Computer Skills
A PC, Mac or Laptop
USB Audio Interface
Microphone & Cable
Headphones*
Reliable Internet Connection

*Headphones may require adapter to plug into USB Audio Interface. Bluetooth only headphones are not acceptable.