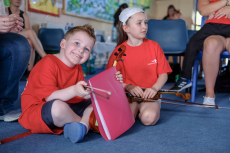 Making music and building confidence through performance music education. Online Summer Camp.


Start your morning making music with Callum & Kellie!
Participants do not need to play an instrument to take part in this online summer camp.
Callum & Kellie will host a fun interactive camp where children can discover new types of music from around the world and develop their musical skills through rhythm games and songs!
Age Group: 5 - 10 years
Dates: 2nd - 6th August 2021
Times: 10am - 12:45pm daily
Fee: €25
This is an online summer camp.
Sign Up Here: https://forms.gle/RbNy3oJmdr6vEoTs6