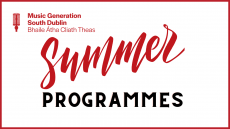 Musical Mornings with Callum & Kellie! (Online)
Making music and building confidence through performance music education.
Age Group: 5 - 10 years old
Dates: 2nd - 6th August 2021
Times: 10am - 12:45pm daily
Sign Up Here & More Details
Summertime Sonic (Online)
An online music production course for young people.
Age: 13-18 years
21st June - 1 July (Two days per week)
Age 8-12years
5th - 15th July (Two days per week)
Sign Up Here & More Details
The Hangout Sessions (12-18yrs)
Running every Thursday in partnership with The Big Picture Foroige in Tallaght.
Come hang out and play music. See Flyer Below!
Contact Laura Ramirez to sign up.
Mobile: 086 608 6743
Email: laura.ramirez@foroige.ie
SubSounds Summer (14-18yrs)
Participants will work together to WRITE, RECORD & PERFORM 4-6 original tracks throughout June/July 2021. Recording at Rua Red Tallaght & Lexicon Dun Laoghaire.
Film Launch early August.
Please complete SubSounds Application Form to sign up - places are limited.