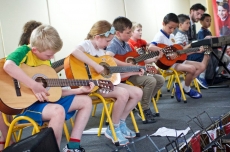 We have three local hubs in Clondalkin, Rathcoole and Kingswood.

Tuesdays - Kingswood Community College
Wednesdays - Rathcoole Community Centre
Thursdays - St Peter Apostles JNS, Neilstown, Clondalkin
Instruments offered in our Community Hubs
Violin
Guitar
Ukulele
Drums
Bass Guitar
Keyboard (Duo lessons only)
Singing
VIVO Music (New Students 7-8yrs)
VIVO Music is a new class being offered for new students to our hubs aged 7 - 8 years. This class has been designed to give students a strong foundation in the fundamentals of music which are essential for learning any musical instrument. VIVO music will incorporate singing, percussion and movement to help children develop a sense of beat, rhyhtm and pitch. This will also give children the opportunity to explore the variety of instruments we offer in our hub and give them a chance to decide which instrumental class they would like to join. Ukulele will be incorporated into this class after Christmas.
Classes are delivered in group or duo formats.
Group lesson work out at approx €7 per lesson.
Duo lesson is approx €10 per class. (Two children in the lesson.)
Individual class is €18 per class where there is an individual class available.
Classes are 30 mins in duration.
Sign Up Here: http://www.musicgenerationsouthdublin.ie/hubsportal/
For further information contact the Hub:
KingswoodMusicHub@gmail.com
RathcooleMusicHub@gmail.com
ClondalkkinMusicHub@gmail.com